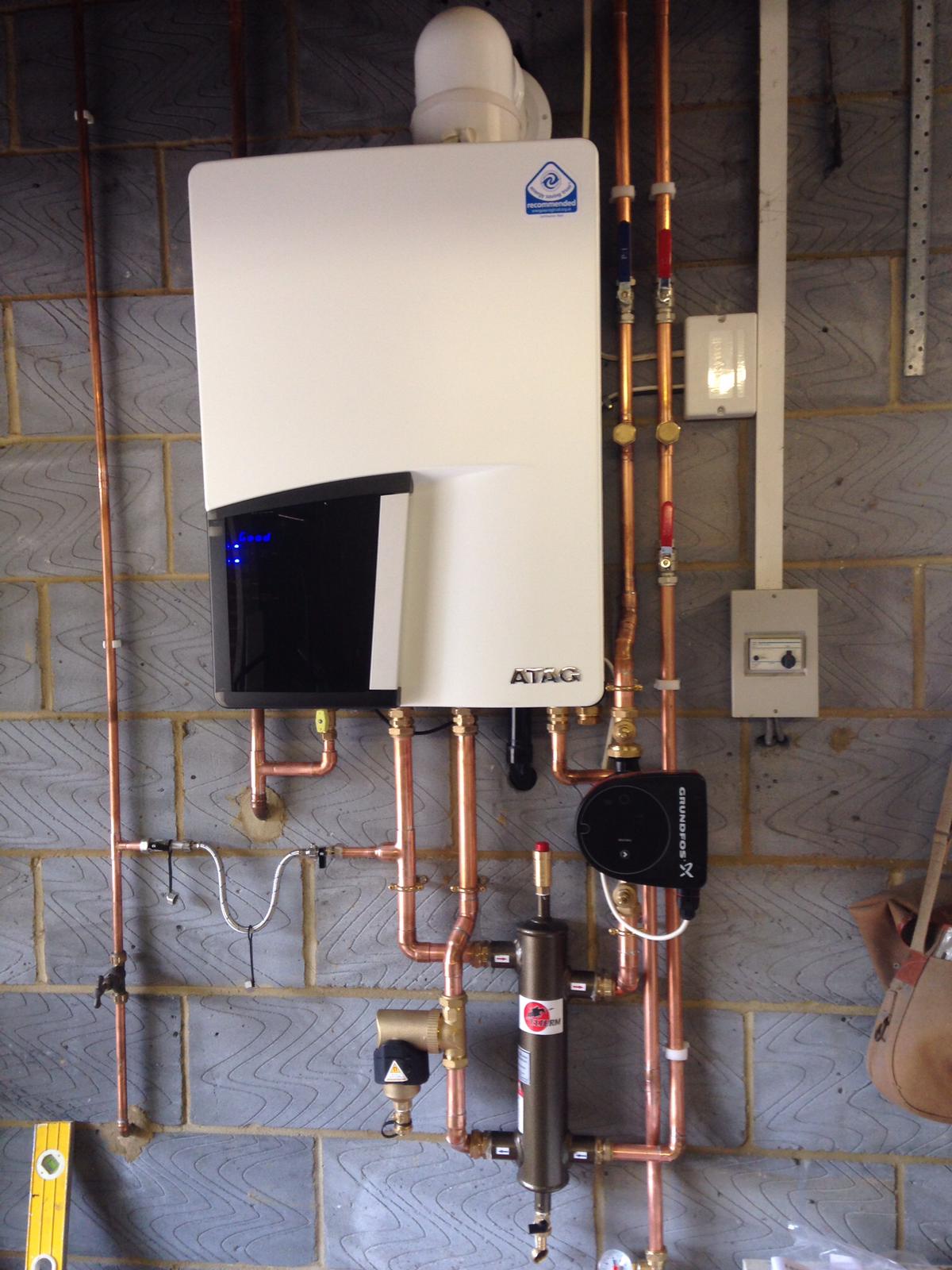 installations

If your boiler is over ten years old, then it is likely that it is not operating efficiently. Approximately half of all CO2 emissions from your home come from your boiler and replacing it with a new condensing boiler will not only reduce your carbon footprint, but also save you money. By installing a new boiler, and adding new programmers and thermostatic radiator valves (TRVs) a typical household could save up to £235 a year.*
We are qualified to install all types of central heating systems currently available, including renewable technologies such as solar heating and air source heat pumps. Whether you are just looking to upgrade an old conventional system so that it is brought up to current standards, or install a full new system, we are happy to discuss your needs and advise you of the system that is right for you.
We only use the highest quality components that are made by leading manufacturers, and comply fully with BSI safety standards. We can fit the most technologically advanced 'intelligent' programmers that react to ambient temperatures outdoors for maximum efficiency. We'll also provide you with all the necessary documentation which you will need if you ever want to sell your home.
*according to www.energysavingstrust.org.uk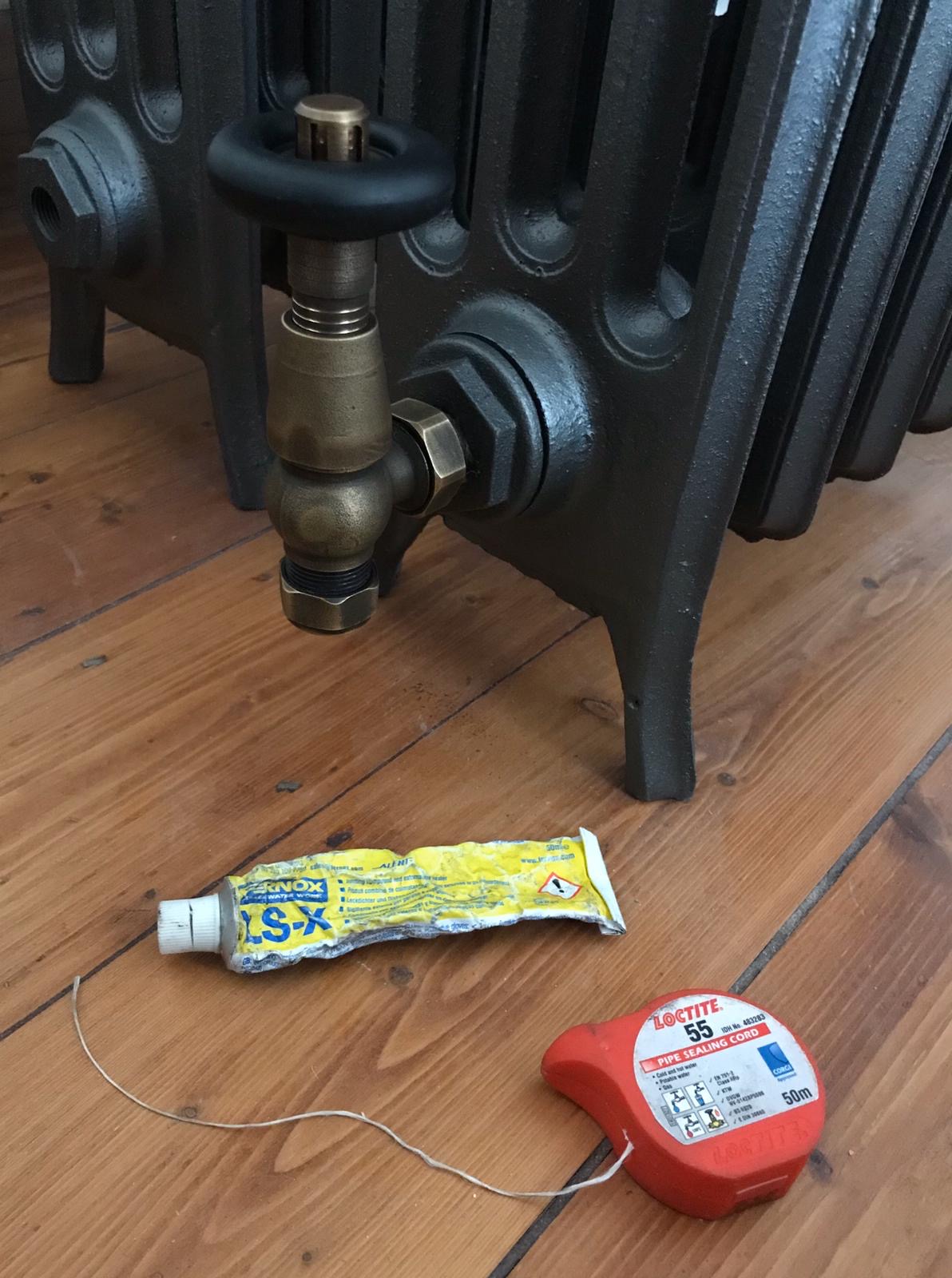 emergencies

Even the most carefully looked after system can develop faults. If you require a service or are experiencing problems with your central heating system, and our FAQ section doesn't help, either give us a call or fill out the contact form below, and we will get in touch with you to arrange a suitable time for us to visit you for a no-obligation quote.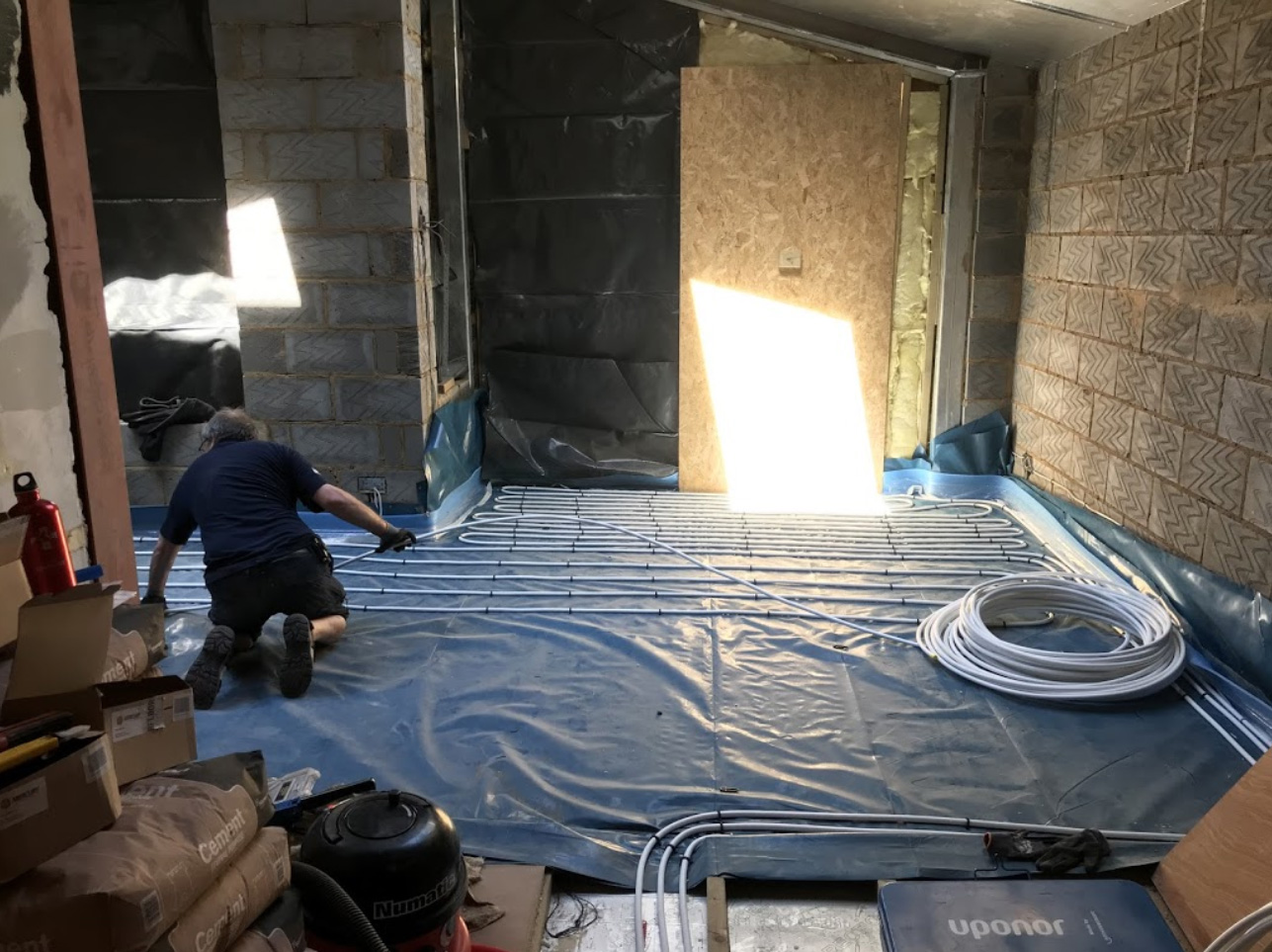 underfloor heating

Underfloor heating is difficult to retro fit as it takes up a lot of depth, however in an extension such as a conservatory it could be ideal, where there isn't enough space to hang a radiator. Water that is heated from the boiler is pumped through a network of underfloor tubes that cover the entire floor space.Modern underfloor heating operates at lower temperatures than radiators and is therefore cheaper to run. The heat radiates upwards from the floor and is distributed evenly. It is considered by many to be the most pleasant type of heat distribution as there are no hot or cold spots.
MK Heating are certified installers for Uponor, the market leader in underfloor heating systems. These systems utilise a 5 layer composite pipe that is 100% oxygen proof, unlike inferior plastic pipe which lets oxygen through and causes corrosion. Paired with an air source heat pump this is a very efficient way to heat your home.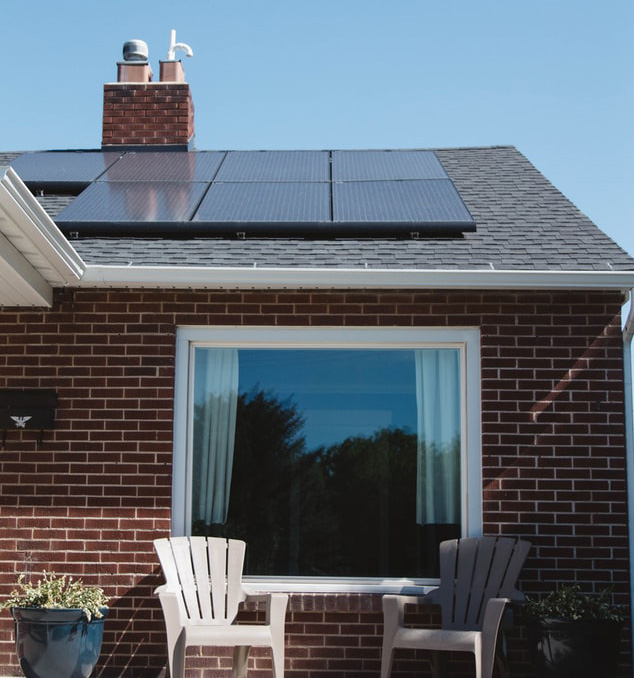 solar heating

Solar panels can provide approximately 50% of your home's hot water, and cut gas bills by 70%. You will also need a traditional boiler to heat your home, and supplement your water heating. It is the most energy efficient way to heat your water, as you only pay once for the system, and not for the energy you use. This technology is a long term commitment as it is not cheap to install, and will typically take 8 years to pay for itself. As well as prolonging the life of your boiler, it also reduces your CO2 emissions and has a long working life, requiring little maintenance.
We will be able to advise and assess the suitability of your property for installing a solar system, and advise of possible grants available to help offset the cost of installation. We are currently registered with Clear-Skies, and are a Vaillant accredited solar installer.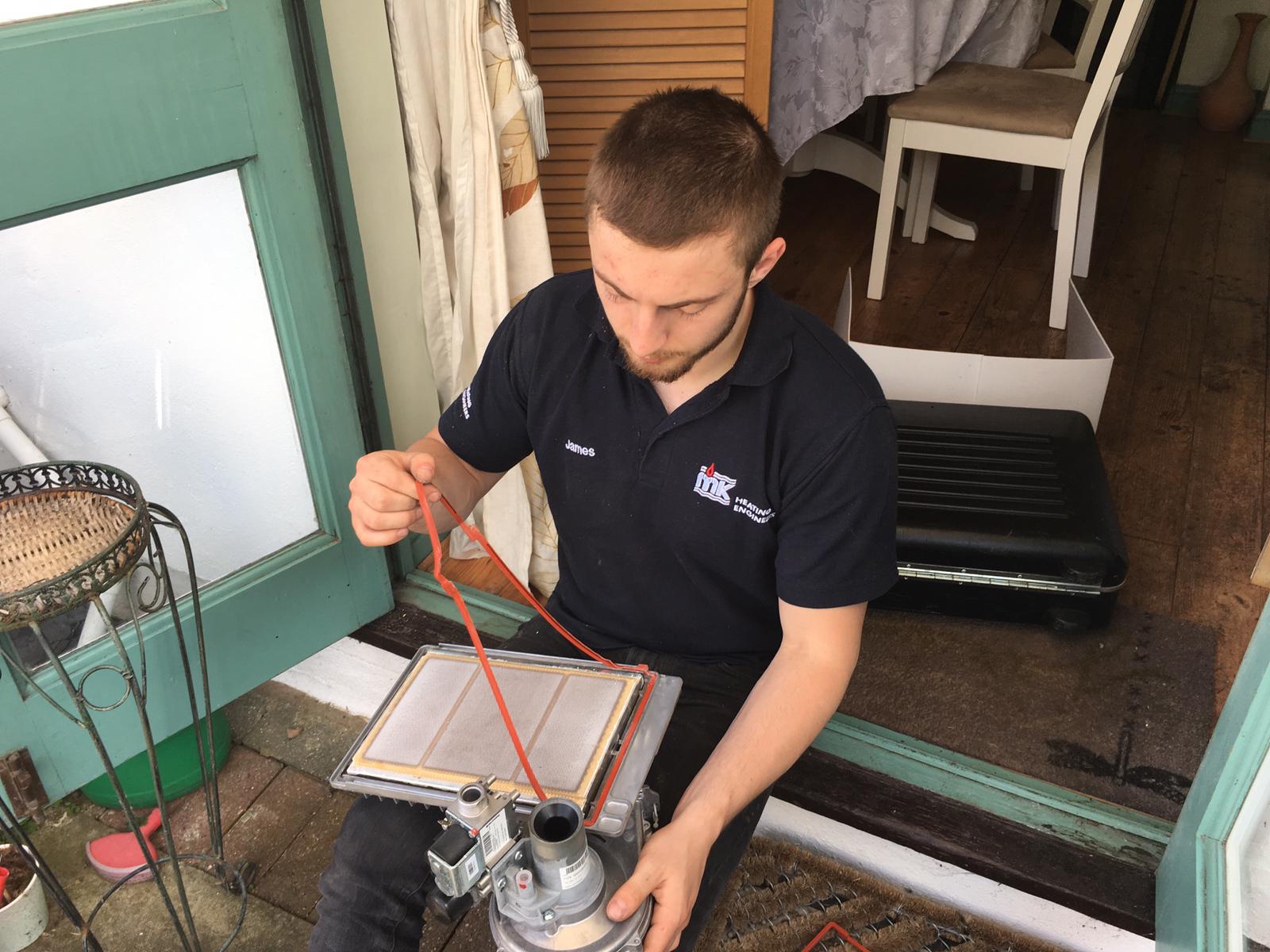 servicing

Prevention is much cheaper than cure when it comes to central heating. A regular service will keep your boiler working efficiently, and will prolong the life of your system and keep you safe from carbon monoxide poisoning.
When we install a new boiler, we will contact you within a year to carry out an annual safety check, which is essential to maintain your boiler's warranty. Even if your boiler was installed by someone else, we are happy to undertake regular servicing, which covers the following:
· A visual check to ensure your boiler meets current standards
· Boiler fired to identify any working faults
· Boiler casing removed to check all main boiler components:
burner
· Heat exchanger
· Combustion fan
· Gas and water seals
· Ignition system
· Check to ensure flue is unobstructed
· Check that boiler is combusting efficiently and properly using a flue gas analyser
· Gas pressure test conducted to ensure no leaks
· Check all visible pipework and controls
· Venting of all radiators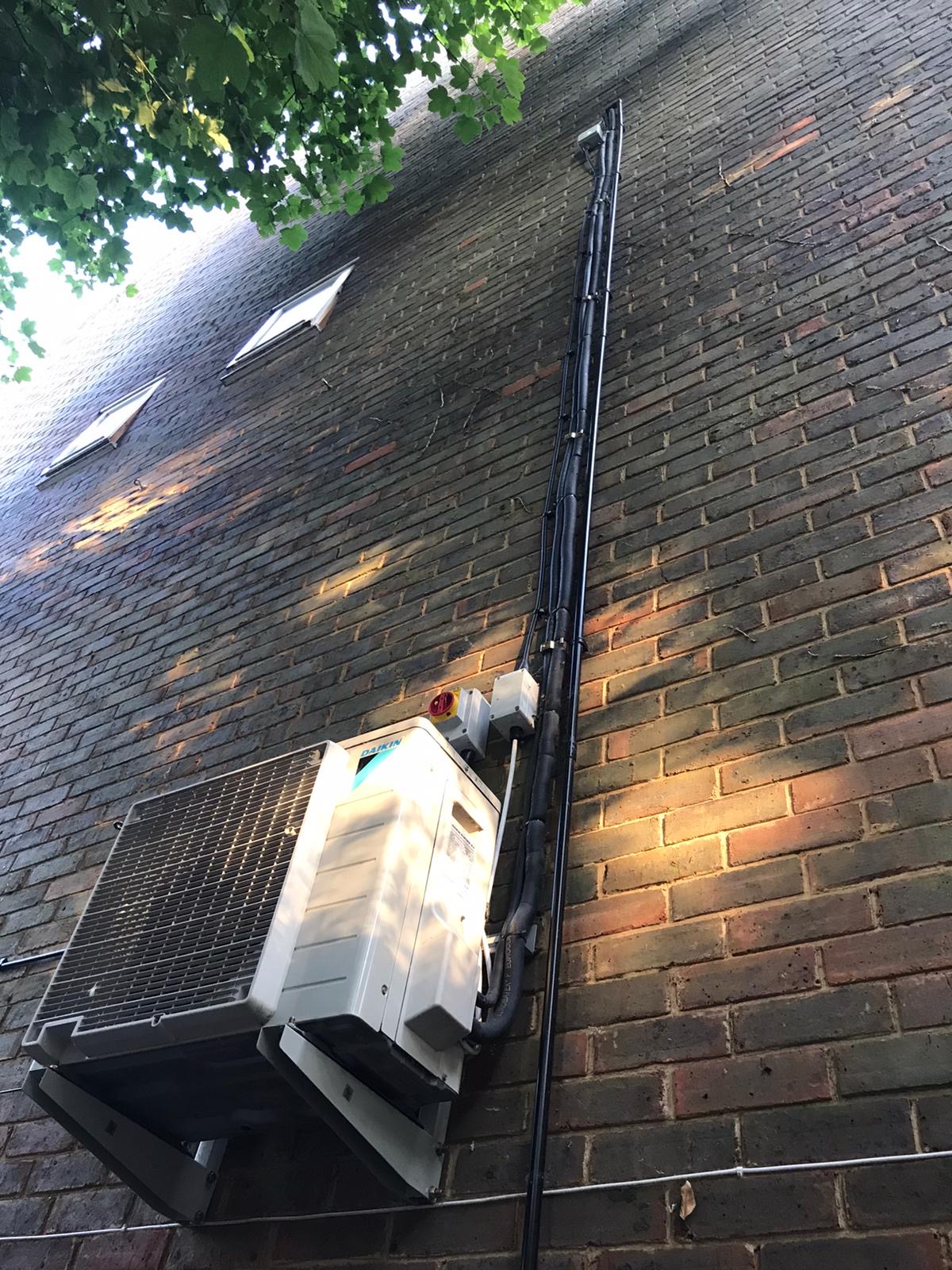 Air conditioning for HEATING & COOLING

Air source heat pumps extract the latent energy from outside air, even at temperatures as low as -15° C, converting it into heat.
They are extremely efficient with a CoP of up to 4, which means that for every 1kw you spend on energy, you get 4kw back, i.e. 400% efficient!
There are two types of air source heat pump:

Air to air heat pumps
Air to air heat pumps are an all-in-one heating and cooling system that converts the energy from the air outside into heat and then circulates the warm air internally to provide a comfortable temperature inside the home all year round. They also function as air conditioning in the summer with the added benefit of air purification for allergy sufferers.
Air to air heat pumps are quiet in operation and are an attractive alternative where space is limited, as they only require an external wall, making them ideal for smaller homes, extensions and loft conversions.

Air to water heat pumps
Air to water heat pumps are intended to be the sole source of heating and hot water supply for the home, and work in a similar way to a refrigerator. Heat from outdoors is extracted and absorbed by a refrigerant solution which is then compressed to a high temperature. This heat is then used to create hot water for a traditional pressurised heating and hot water system.
This system is ideally suited for use with low-temperature underfloor heating systems and appropriately sized radiators, as well as for baths and showers outputting tap water up to 65° C.
MK Heating are an accredited installer for Worcester Bosch air source heat pumps.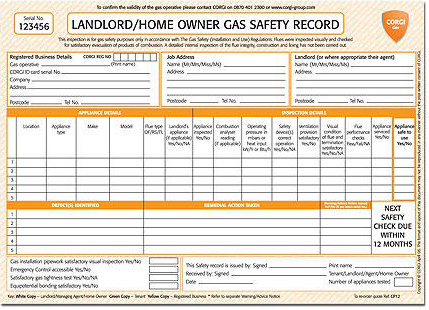 landlords

MK Heating offer you a safe and efficient service in installing and maintaining complete heating systems. We carry out landlord gas safety inspections for tenanted properties – a legal requirement when letting out your property. We can check, upgrade and issue your Certificates (CP12's) on the spot and/or advise you of safety requirements you need to implement



WHY CHOOSE US

We are a family run business established in 1997.
We take on a variety of work including:
boiler and air conditioning installations
Gas and electrical inspections
small plumbing jobs such as tap replacements and leak repairs.